I get it! There is a lot of hype and marketing around Valentine's Day! And who wants to be the partner that doesn't show some love to our significant others on Valentine's Day? Or worse, who wants to be the parent, teacher, or caregiver who doesn't celebrate with their little ones? Not me, that's for sure. However, I really struggle with the commercialism on the holiday. There is so much waste. The most traditional gifts involve things we don't need. Furthermore, these traditional gifts often include shipping in flowers that aren't in season. It's traditional to give chocolate in fancy wasteful boxes or to buy jewelry, which may have questionable or unethical supply chain issues behind the scenes. No judgement on how you choose to celebrate. These thoughts do run through MY head, though. And now that they're there running a marathon, I have to make some more eco-conscious choices when it comes to Valentine's Day. This year, I'm also inviting you to be my eco-conscious Valentines by adopting one (or more!) of the suggestions below.
Eco-Conscious Valentines for your Person(s)

I truly believe one of the best ways to have a more mindful, sustainable Valentine's Day is to put the focus on your person. Avoid getting caught up in the commercialism of the day. Instead, try some of these alternatives:
Skip the gifts
This one can be super challenging for some people. I get it! But we don't need gifts to have a special day! And really, we show each other love every day, right? Just talk to your usual Valentine gift recipients and agree to not exchange.
Make Something Special
Use materials you have around the house to make gifts! Upcycle old Valentines into new cards. Create a piece of décor. There is something truly special about thoughtful, homemade gifts.
For some cute kid-friendly upcycled crafted gifts, check out our previous post.
Give a Gift of Service
Do something helpful for your loved one. Do they hate a certain chore? Complete the chore and surprise them with that relief. Do they keep running out of time to get a task done, perhaps you can find time to do it instead. Offer your partner a massage. Give your little girl a manicure. Cut your parents' lawn. Wash your son's car. Or make a whole coupon book of service gifts!
Share an Experience with your Loved One(s)
Take a hike and point out what you love about the view. Go see a movie together. Grab a cup of coffee or hot chocolate and just give each other time! Take your kids to a park. Better yet, share the experience with your loved one of performing an act of service for others in your community! Pick up trash at a local park or along a (safe) road. Volunteer time at a soup kitchen. Give blood. Look up other awesome opportunities to be of service and show love to others.
Reminders for Gift Purchases
While there is a lot of advantage to a No-Buy Valentine's Day, that isn't the only way you can be eco-conscious valentines this year. You can still give eco-conscious valentines even if you still decide to purchase them.
Here are some things to keep in mind!
Do Your Research
One of the best ways to practice eco-conscious shopping is to research the company and product. Look into the product materials to look for sustainable options. Consider the company's ethical practices, their commitment to sustainable development, and the material & processes used for their products.
Buy Local
Buy from local companies who source their materials locally. The less a product or material travels, the better! Transportation and shipping industries have huge carbon impacts, so aim to have your products travel as little as possible.
Buy Seasonal
In a similar way, we can reduce transportation and shipping impacts by buying items that are in season in our areas. Are roses really in season where you live? If not, then perhaps we can skip them and opt for some more eco-conscious valentines.
Consider Material & Packaging
We have a real plastic crisis, so try to aim for gifts that do not include plastic material. Don't forget about the packaging! That matters, too!
Skip the bulk party favors for your littles or students. They're typically made of cheap plastic and break quickly. They end up in the landfill rather quickly.
When it comes to candy, consider unwrapped candy when you have the option. If you need to use wrapped candy, consider foil-wrapped since foil can be recycled.
Eco-Conscious Valentine's Day Decorations
Seasonal decorations can lead to large amounts of waste, especially when they aren't reusable decorations. Being conscious about how we decorate for the holiday can be one way to fight plastic pollution and reduce waste. Here are a few suggestions to consider:
Opt for Reusable Table Settings
Skip the paper or plastic plates and utensils; use the real ones, instead. Consider adding some red or pink cloth napkins to the table if you really want something to up your Valentine's Day vibe at your table.
Make or Buy Upcycled Décor
By using upcycled materials, you are reducing trash from the waste stream. These options can be truly beautiful. If you make them yourself, they offer an opportunity for a hobby and the satisfaction of the completed work. If you buy them, you're likely supporting a small business or someone's side hustle! Trust me that those individuals appreciate your purchase so much more than a large corporation.
Choose Plants Over Cut Flowers
Instead of giving flowers that quickly die, consider giving a plant instead. Plants can have benefits to physical and mental health for the recipient. They last a lot longer, too!
Eco-Conscious Valentines Party Food
Don't forget that party food is another area that often has a huge carbon impact on the environment. Animal-based products and individually-wrapped goodies are big culprits. Here are some ideas that have a lower impact that you can use during your celebrations:
1. Upgrade your Apples
Use a heart cookie cutter to cut a small heart out of a green apple and a red apple. Swap the cut out shape into the opposite color apple for this sweet, edible edition to the table. This is a great option if you already have a small cutter and apples are in season where you live.
2. Choose to Brunch when You Munch
It's easy to create heart-shaped yummy goodness for an American Breakfast without loading up on meat. Keep the meat to a minimum, if you provide it. Instead, go with heart-shaped pancakes or heart raspberry rolls. You can serve up some protein by including a delicious and beautiful smoothie in a Valentine's Day color that includes some vegan protein powder. You could also offer yogurt; while an animal product, it generally has lower impact that offering meat. I recommend Stonyfield as a sustainable, organic option.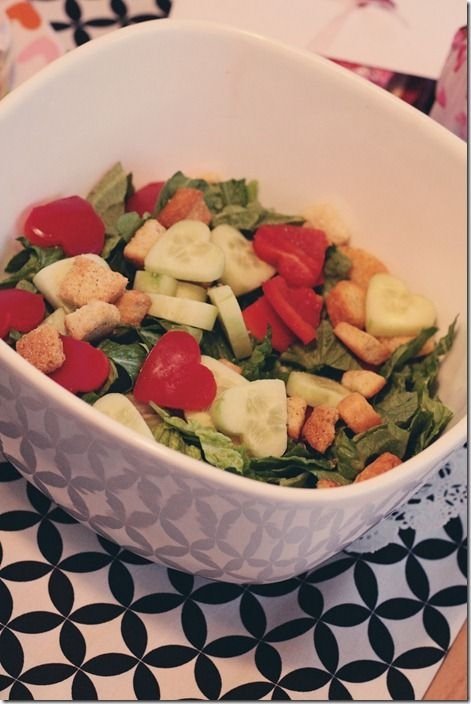 3. Jazz Up Your Veggies
Use cookie cutters to cut hearts from your veggies in your salad. Create a veggie charcuterie board in the shape of a giant heart. Vegetables are healthy and have a much lower carbon footprint. Remember to look for vegetables that are produced closest to home.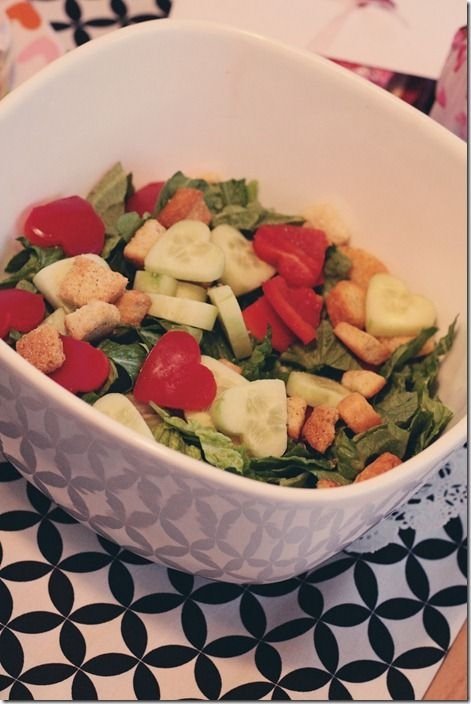 4. Make it Vegan or Plant-Based
Meat and dairy have the highest carbon impact. The more we can include plant-based and vegan dishes in our Valentine's Day meals, the more eco-friendly our feasts will be. There are many ways to adapt your favorite recipes to make them vegan or vegetarian. There are also some really creative Valentine's Day vegan meals out there. Here's a fun list from LynSire that is fulled with beautifully colored vegan meals that will surely add a festive element to your eco-conscious Valentine's Day spreads!
There is no need to sacrifice the love, joy, and magic of any holiday you wish to celebrate. But remember WHY we celebrate. What is it that you want to honor or celebrate for Valentine's Day? And how can you celebrate without unnecessary purchases and producing excess waste?
Much love, my Eco-Conscious Valentines.
Spread Love, Not Waste.